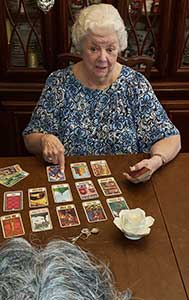 Soul Reading

I have created a "Soul Reading" which I have been doing for the public for over 25 years. To my knowledge I am the only one who does what I call a " Soul Reading". I developed this because of the needs of my students. They wanted to know about past lives, who was their soul guide,what had influenced their lives up until the present and what did their soul hope to accomplish before they returned to spirit, and last could I contact a past love one.

I never dreamed I would be doing it for the general public but through referrals it has become very popular. It has amazed me how it has helped people understand and accept reincarnation, learning what skills they had known, interests and countries they have lived in.

Opening up the akashic records I take you into past lives, places lived, occupations, special gifts or talents you may have. I introduce your soul guide. The next part is soul experiences one has lived from birth to the present time that can influence you in this life. This can often allow a person to better understand their decisions and to face the fact that these choices were made of their own free will. We must take responsibility for those choices and not put blame on others.
During these readings, after permission from the client, if a past loved one wishes to present themselves, I provide that opportunity.

There are many types of readings and many use a huge variety of cards. I use what is called psy cards. They are different than most and I insist all my students have a deck. This is how I get them to connect with their psychic abilities.
Her work continues thru her son Brad. To experience a reading with him and see how he continues her work visit his site at www.bradfristensky.com